Spanish Translations of 2nd Edition
Spanish Version Available in North America!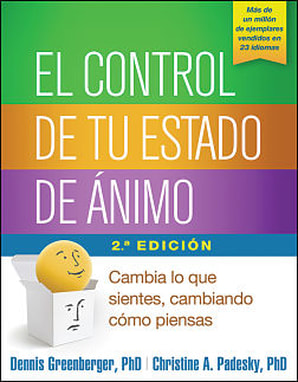 Paperback, PDF e-Book and [Print Replica] Kindle (not available for Paperwhite kindles). Total of 19 worksheets in the book's Appendix).
"Rara vez aparece un libro que pueda cambiar nuestra vida, y El control de tu estado de ánimo es uno de estos libros. Greenberger y Padesky han destilado el saber y la ciencia de la psicoterapia y han escrito un manual para el cambio fácil de entender".–del Prefacio por Aaron T. Beck, MD, fundador de la terapia cognitiva​
In Local Bookstores. From the Publisher. Read more or order from Amazon USA.
For Bulk Orders: contact Guilford's customer service or sales department
Spanish Version Available in Spain, South America & Central America
El control de tu estado de ánimo. 2ª edición (paperback or Epub 2)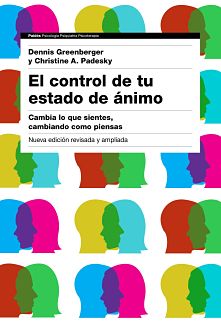 Available from
PlanetadeLibros: www.planetadelibros.com/libro-el-control-de-tu-estado-de-animo-2-edicion/213878
READ SAMPLE HERE
Leer Primer Capitulo
Notes from the Publisher
El control de tu estado de ánimo (Segunda edición)
Cambia lo que sientes, cambiando cómo piensas
Dennis Greenberger and Christine A. Padesky / Foreword by Aaron T. Beck
Translated by Genís Sánchez Barberán
366 Pages / Size: 8″ x 10½"
​Nueva edición del libro más vendido que puede cambiar vidas—¡Más de un millón de copias impresas!
​Prefacio, Aaron T. Beck
Agradecimientos Breve mensaje a profesionales y lectores interesados
Lista de formularios
1. Cómo nos puede ayudar El control de tu estado de ánimo
2. Entender nuestros problemas
3. Lo que cuenta es el pensamiento
4. Identificar y puntuar estados de ánimo
5. Fijar objetivos y observar las mejoras
6. Situaciones, estados de ánimo y pensamientos
7. Pensamientos automáticos
8. En busca de pruebas
9. Pensamientos alternativos o equilibrados
10. Pensamientos nuevos, planes de actuación y aceptación
11. Supuestos subyacentes y experimentos conductuales
12. Creencias nucleares
13. Entender la depresión
14. Entender la ansiedad
15. Entender la ira, la culpa y la vergüenza
16. Mantener las mejoras y ser más felices
Epílogo
Apéndice.
Copias de los principales formularios
(data as of January 23, 2015 – applies to 1st edition)
Since the 1st edition Spanish translation is now out of print, we are listing Amazon statistics from when the book was readily available to provide you a more accurate picture of the Spanish edition sales activity than currently displays on the Amazon site
#8 in Books > Libros en español > Ciencia > Ciencias de la Conducta Humana (Human Behavior Sciences)
#23 in Books > Libros en español > Salud, mente y cuerpo > Salud Mental (Mental Health)
Average rating of 5 out of 5 stars (total of 5 reviews). One reviewer stated: "For the Spanish-speaking population there are few tools that are as good as this book."